Check out my piece on Pat Riley. It will appear in print in the fall issue of The Delta, a Sigma Nu publication.
Serve in the Light of Truth
By John Bauernfeind (Indiana)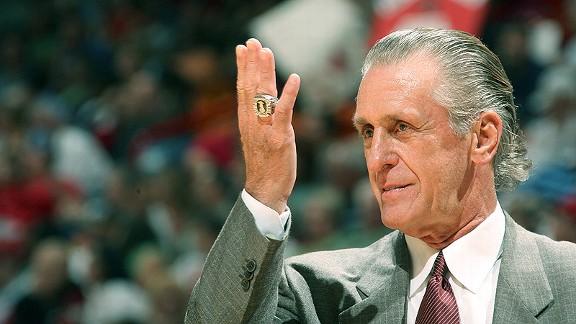 Pat Riley (Kentucky) and the Miami Heat begin their search for another NBA title tonight as they face the San Antonio Spurs in Game 1 of the NBA Finals.
Pat Riley is a man of his craft. He has won NBA championships as a player, coach and, most recently, as Miami Heat team president, a post he's held since leaving the head coaching position in 2008. Championships define success in sports, and multiple championships mean greatness. His basketball legacy is unmatched, and he isn't stopping anytime soon.
Riley's basketball career began in Schenectady, NY, where he grew up the youngest of six children. A star on his school's varsity basketball team, Riley chose to play college ball at the University of Kentucky after legendary head coach Adolph Rupp personally recruited him.
Kentucky was where Riley's basketball persona began to take shape. He became a star at…
View original post 1,426 more words